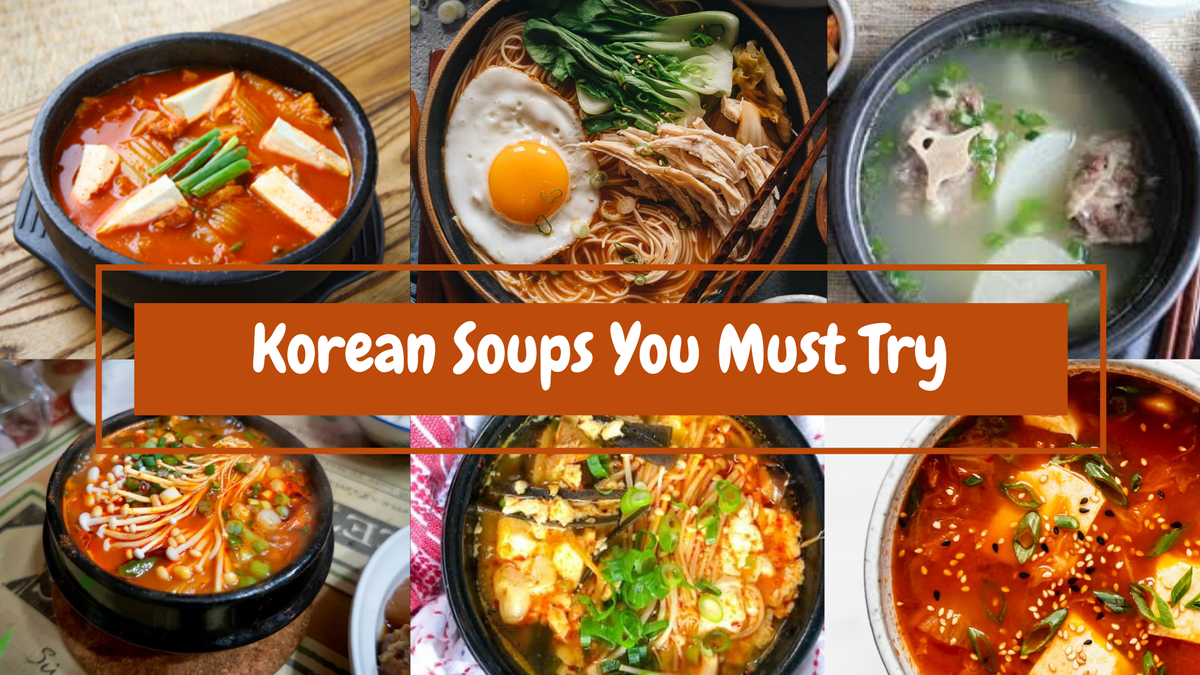 In Asian cuisine you can find various types of soups. In ingredients get differ in each country but the benefits are the some how similar. I personally love soups as it is easy to prepare and loved by many. I have few Korean soup recipes that you must try. You won't regret it. Korean soups are delicious and healthy. Korean soups have almost the same ingredients.
Korean Seaweed Soup
Ingredients
1.Seaweed (Ottogi Cut Seaweed)
2. Beef ( cut in small pieces)
3. Soup soya sauce
4. Sesame oil
5. Black pepper
6. Soup soy sauce
7. Salt
8. Minced garlic
Steps to cook
1. Place the seaweed in a bowl of water.
2. On your stove and put in medium heat. Put the meat first then 1 tablespoon soup soya sauce and 1 teaspoon of sesame oil.
3. Continue with adding 1 teaspoon of black pepper. Then mix everything well.
4.Once the meat is well cooked (the redness is gone) add the seaweed in (filter the water out).
Precaution : If you are using tofu/tauhu you do not need to wait. Just add seaweed in the soup.
5. Add sesame oil again. Then continue adding 1 tablespoon minced garlic and enough amount of salt you want.
6.Add 1 tablespoon of soup soy sauce again.
That's all! The dish is ready!
You can eat seaweed soup with rice. It tastes delicious.
Korean Tofu Soup
Ingredients ( for 1 bowl)
1. Potato (1)
2. Tofu/tauhu ( 4 to 5 pieces)
3. Spring onion (2)
4. Onion (1)
5. Sesame oil (4 tablespoon)
6. Gochujang (1 tablespoon)
7. Soy Bean Paste (1 1/2 tablespoon)
8. Salt ( your preference)
Steps
1. First cut potato, tofu/tauhu , spring onion and onion.
Precaution- cut in big pieces. If you cut into small pieces it will break into even small pieces when you cook. So don't cut in small pieces.
2. In a pot, pour 4 tablespoon of sesame oil. Then add potato, spring onion and onion.
3. Mix it well and then add enough amount of water to make sure the potato and onion are well cooked.
4. After 10 minutes of boiling at 1 tablespoon of Gochujang and 1 1/2 tablespoon of Soy Bean Paste.
5. Make sure the soup is boiling well. Add tofu/tauhu and salt.
6. Boil it well again. And when all the ingredients are well cooked. Off the stove.
The dish is ready to be served!
Korean Chicken Soup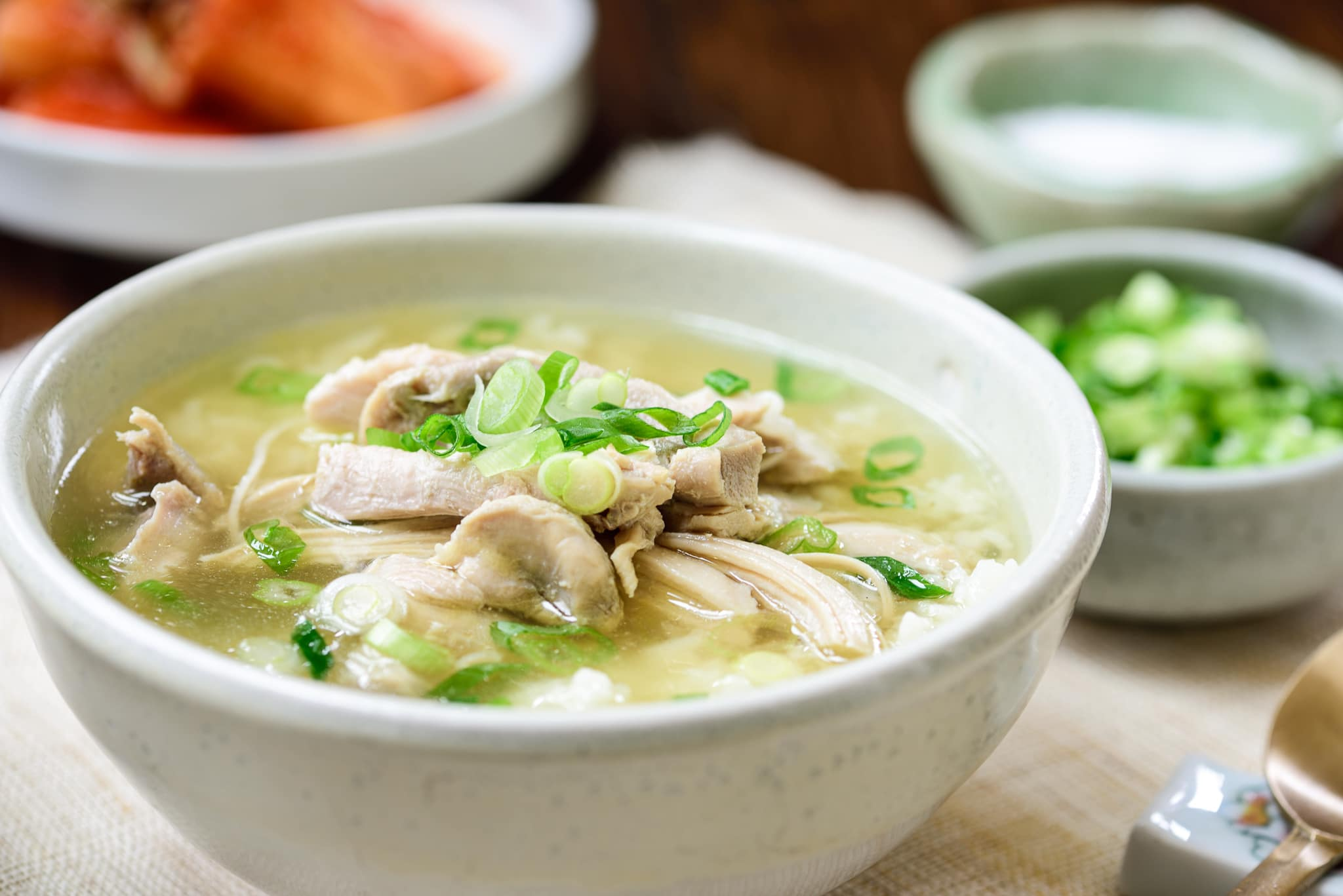 Ingredients
(For 2)
1. Chicken (whole) - 800 gram
2. Garlic - 10 cloves
3. Spring onion - 2
4. Black pepper
5. Salt
Optional
- Cooked rice
I love to eat with rice, you can skip it if you don't want.
Steps
1. Clean the inside of chicken.
2. In a big pot, place chicken in the middle and pour 3 litre of water.
3. Cut the spring onion in 3 pieces, smash the 10 garlic cloves and onion. Also add 4 to 5 garlic cloves that are not smashed.
4. Boil it for 30 minutes. Make sure the chicken is well cooked.
5.Cook for high heat for 7 minutes only then reduce the high flame to medium.
6. Remove only the chicken for the soup.
7. Shred the chicken in small pieces. Put the chicken bone after shredding in the soup back and boil it for 15 minutes.
8. Now add 2 tablespoon of sesame oil and 1 tablespoon of black pepper.
9. Turn off the stove, add enough amount of salt.
Presentation
1. In a bowl, place cooked rice and pour the soup and put the shredded chicken on the top and add black pepper on the top.
Kimchi Jjigae Recipe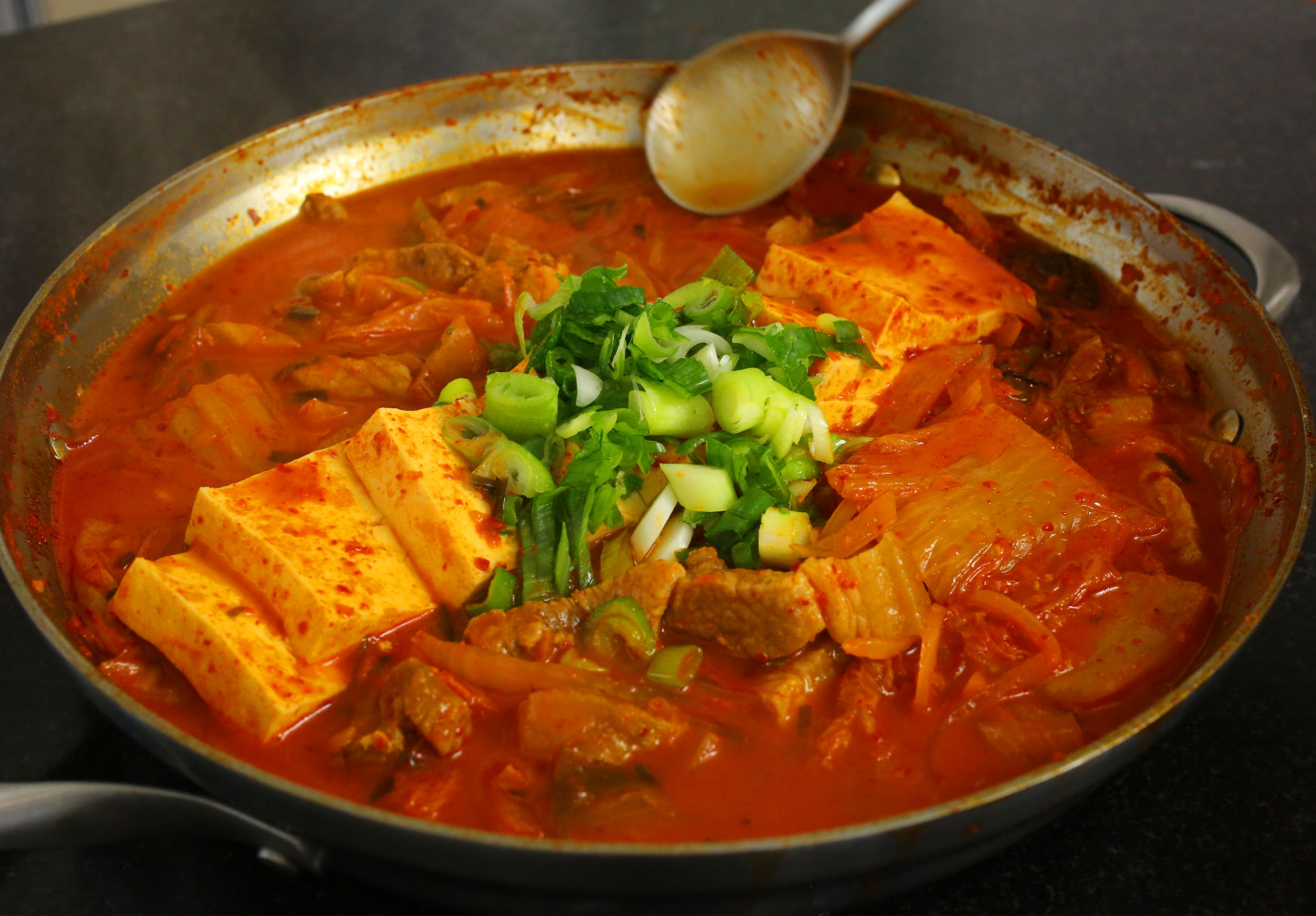 Ingredients
1.Kimchi
2. Onion
3.Mushroom
4. Toufu
5.Gochujang
6. Chili flakes
7.Soy sauce
8.Garlic
9. Black pepper
Steps to cook
1. Add sesame oil or any vegetable oil in a pan and heat it up.
2. Add kimchi, minced onion and garlic. Stir until the onions' colour changes.
3. After 2 minutes, add chili flakes and gochujang according to your spice tolerance.
4.Stir well until everything is mixed well.
5. Add kimchi brine and vegetable stock in the pan. Stir well. After 2 minutes turn off the stove.
6. Boil tofu and mushroom in different pan. Simmer it once it has cooked well.