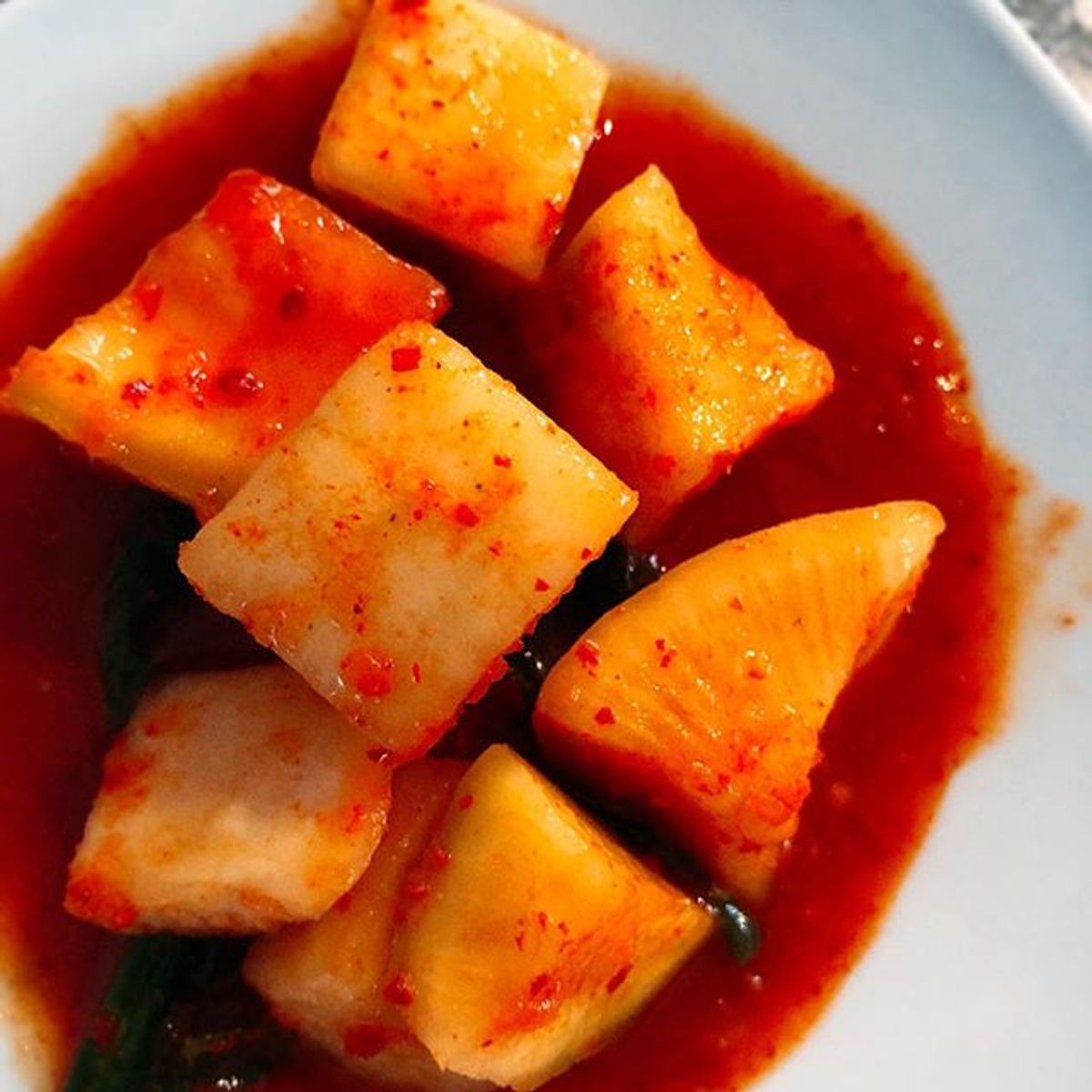 Kimchi is usually made with leaf cabbage. Commonly, people always use leaf cabbage as it is well known for kimchi recipe. Those who are new to Korean food always try leaf cabbage. Even when people recommend or describe about Kimchi, the first vegetable which will be mentioned is leaf cabbage. Even I have done articles about leaf cabbage kimchi.
Check out the articles below to learn more about kimchi.
Ingredients to need
1 kg Korean radish (2.5 pounds), or daikon radish, rinsed and skin peeled

3 stalks green onion (50 g / 1.8 ounces), rinsed

2 Tbsp raw sugar

2 Tbsp rock salt or Korean coarse salt

1/2 small brown onion (70 g / 2.5 ounces), skin peeled, cut into small pieces to blend

1/2 small red apple (50 g / 1.8 ounces), seed and core removed, cut into small pieces to blend

3 Tbsp Korean fish sauce , I used anchovy sauce

1 Tbsp minced garlic

1/2 Tbsp minced ginger

4 Tbsp Korean chili flakes (gochugaru)

1/4 cup water

1 Tbsp rice flour
Steps to make Radish Kimchi
Cut the radish into medium sized cubes or according to your preferrence. Put the cubed radish into a large mixing bowl and add the sugar and salt then mix them well. Leave it for 1 hour in room temperature.

While waiting, chop the green onion into small pieces and make the Kimchi base. Blend the onion and apple with the fish sauce in a blender. (the volume of the fish sauce is according to your prefference). Make the rice porridge by mixing the water and the rice flour in a bowl and heating them up for 1 min in a microwave. It should give you a mildly runny porridge texture. Mix all the Kimchi base ingredients (*except for 2 Tbsp of Korean chili flakes) in a medium sized bowl.

After one hour, rinse the radish in cold running water a couple of times and drain excess water.

Put the radish into a clean mixing bowl and add 2 Tbsp of Korean chili flakes. Mix the chili flakes with the radish evenly. Add the chopped green onion and the Kimchi base and mix them evenly and thoroughly.

Move the seasoned radish into an air tight glass container and leave it at room temperature for between 6 to 24 hours depending on the temperature. After that keep it in the fridge.
Recipe retrieved from : https://mykoreankitchen.com/korean-cubed-radish-kimchi-kkakdugi/