In internet, most of the Korean recipe articles/videos or any kind of information on cooking will ask you to use gochujang. Not as negative point, but do everyone has the time and energy to go find gochujang in a grocery shop. I personally hate to hunt for one ingredient. Sometimes, you need to go further just to buy an ingredient. I always get annoyed whenever the recipe column ask me to use an ingredient that is hard to find.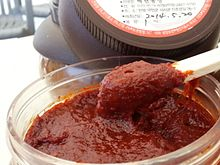 We Malaysians won't usually have gochujang at home. No matter how simple, easy a dish is many of us won't follow a recipe when we don't have the main ingredient. For an example, gochujang is a mandatory ingredient in Korean food so 99.99% recipe articles will instruct to use it.
To solve this ingredient shortage issue I have an simple trick. You can replace gochujang sauce by using an alternative sauce which is Thai Chilli Paste or Thai Sauce.