If you love seafood then this dish will be your new favourite dish. Korean pancakes are special because they are not like the ordinary pancake which you eat with honey/ jam. Korean pancake, Haemul-jeon is made with seafood like shrimp and fish.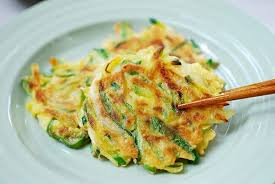 The recipe is very easy as you need
Ingredients
1. Shrimp (cut in small pieces)
2. 2 Green onion
3. 1 Green chili pepper
4. 1 tablespoon of carrot
5. 1 egg
6. 1/2 all purpose flour
7.1/2 potato starch (optional)
8. 1/2 water
9. 1 cup of fish oil
10. Black pepper
11. 1 teaspoon of salt
12. Sesame oil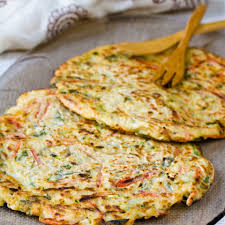 Steps
1. Add all the ingredients in the ingredient list. Mix well.
2. In a pan, pour 4 tablespoon of oil.
3.Take your pancake using a big spoon. Flatten the surface of the pancake. Let it fry fully.
THAT'S ALL SEAFOOD PANCAKE IS READY